About Global Girls Day

Global Girls Day is a day devoted to bringing girls of different backgrounds and cultures together to take action.

Girls, ages 12 to 18, will learn how to create positive change and work with others to develope community-based action projects. They will hear from girls from around the world who have already started addressing important issues in their communities.

Girls International Forum (GIF) is a girl-led organization that brings girls together to discuss issues that affect their lives and the lives of girls around the world. GIF imagines a world where all are encouraged to raise their voices and actively participate in governing their communities.

GIF provides a forum for girls from a broad range of countries, communities, and backgrounds to connect, raise issues of common concern, develop solutions to problems, take action, and communicate their ideas to the greater community—local, national, and international.

Click HERE for a schedule of this year's Global Girls Day activities.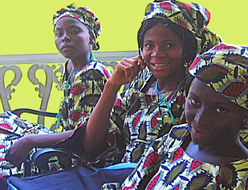 In 2006, the team from Nigeria came up with a project to educate the people in Nigeria about HIV.


Their project included creating skits to educate about the three "Hows." (1) How people get infected with HIV: (2) How to prevent HIV; and (3) How to support people who are living with HIV/AIDS.
The girls use real life stories of people living with HIV/AIDS—along with facts about the virus—to create these skits.


The Nigerian team is presenting its skits in schools, in communities and on the radio to raise awareness of the increasing risk of HIV/AIDS.